Links

Iranian Red Crescent Society
http://www.irrcs.org

Mennonite Central Commitee
http://www.mcc.org/peace/

Canadian Foodgrains Bank
http://www.foodgrainsbank.ca/


International Federation of Red Cross and Red Crescent
http://www.ifrc.org/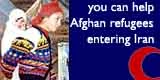 Helping Afghan refugees entering Iran

The Muslim Peace Fellowship is now a supporting agency to assist Afghan refugees entering Iran as well as displaced Afghanis in western Afghanistan. The project is coordinated by the Mennonite Central Committee (MCC) in collaboration with the Iranian Red Crescent Society. MCC has an excellent reputation for conscientious relief work uncontaminated by missionary activities; it has been working with the Iranian Red Crescent Society on refugee and disaster relief for more than ten years.

Before September 11, the Iranian Red Crescent had already begun action on a plan to provide temporary shelter, health services, and food to displaced persons around Herat in western Afghanistan: an estimated 500,000 displaced people had come to that area. With the threat of a military strike against Afghanistan, it is assumed that more refugees will come into Iran and there will be more displaced people near the Iran-Afghanistan border.

MCC will shortly be sending $200,000 to the Iranian Red Crescent Society for local purchase of food and other relief materials. In addition, they are planning a substantial food shipment from Canada in collaboration with the Canadian Foodgrains Bank.

Muslim Peace Fellowship will channel money to this interfaith effort in the name of American Muslims. Make checks payable to Muslim Peace Fellowship, noted for Afghan Relief.

Send them to MPF, Box 271, Nyack, NY 10960.
Phone: 845-358-4601 x 43.
Fax: 845-358-4924.
E-mail: mpf@forusa.org.
Web: www.mpfweb.org.